Local Moving in New York City
We're the top-rated NYC moving company. Best movers in the city.
We know your neighborhood. Whether you're moving from a high-rise on the Upper East Side, or a Brownstone in Park Slope, we've been there. Our movers are adept at navigating all types of apartments, condos, homes and businesses of all types on the streets and avenues of New York City. We'll even move you inside the same building.
When you relocate to the greatest city in the world, you need the best Manhattan movers in the business. That's where we come in. Our founders worked for multiple Manhattan moving companies, learnt the ropes and saw what clients really want out of a mover before they teamed up to start a company that delivers the perfect moving experience.
Not only is Manhattan where we've made our name, it's where we're based. We've been on every street, from Crosby St to Amsterdam Ave, Wall St to Riverside Dr, enough times to know our way around without Waze or Google Maps. Whether you are moving to Manhattan or leaving the city for a new adventure, we're here for you. We strive to show each and every client what it is that makes us one of the best Manhattan moving companies.
From Flushing Heights to Long Island City, we know just about everything from storage solutions to where to get the best dim sum and find the best views of the city skyline. Our trucks have made thousands of trips across the Queensboro Bridge & the Triborough Bridge to get our clients settled down in Woodside, Astoria, Sunnyside, Forest Hills, and all the other great neighborhoods in Queens.
As professional Queens movers, we're dedicated to providing every client with the best possible service. From logistics to packing to moving to unpacking, we are with you every step of the way.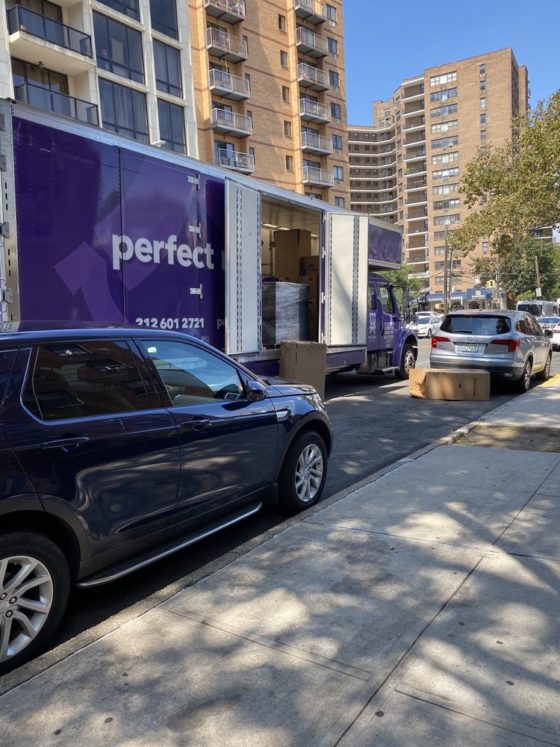 We're the moving company Brooklyn residents are most likely to refer to their family and friends. As top-rated Brooklyn movers with an average 5-star rating on all platforms, we are able to handle moves of any size or distance and we're not satisfied until you are happily settled into your new home. Whether you are moving to Brooklyn or moving away from Brooklyn to start a new chapter, we are the moving and storage company that is dedicated to making your move as easy as possible.
No other NYC movers know Brooklyn like we do. From Coney Island, to DUMBO, to Bay Ridge, our team of Brooklyn movers know all of the corner stores, bagel shops and distinct personalities of each of these neighborhoods. Our movers were raised in these streets and have all of the insider knowledge to make your move a seamless one.
If you're looking for 5-star service with experienced professionals during your move in the Bronx, our Bronx moving services have you covered. Our teams can handle any move from start to finish, including packing and unpacking, so you can rest easy and focus on your new home.
From the South Bronx, to Yankee Stadium, to Kingsbridge and Riverdale, we've been around the block. We've completed thousands of moves, provided storage solutions and, of course, cheered on our favorite baseball teams.
Our team of Bronx movers are proud New Yorkers who are experts at their trade and can get you moved into your new place hassle-free!
We offer dependable services as a Staten Island moving company you can trust. With everything from local moves to packing services and storage, we can assist with whatever you need. Our Staten Island movers are professional, reliable, and highly trained in the industry. One look at our reviews will show you our dedication to customer satisfaction. Moving in Staten Island can be difficult, hectic, and confusing, but we remove the stress and hassle to give you peace of mind from the get-go. Our moving quotes include numerous factors to ensure you receive a fair and affordable price.
Perfect Moving - Peace of Mind from the Get-Go
Residential Moving
Packing up and moving your life (and oftentimes the lives of others) from one home to another can be stressful and tiring, but we're prepared to work with you and your family to make sure everything gets where it needs to be when it needs to be there. We have everything you need and more to get the job done perfectly.
Commercial Moving
Let us create an amazing commercial move experience, whether you are being transferred or looking for corporate relocation services. We are a leader in corporate moving and strive to use our resources and experience to make a smooth transition whether you are an employee or a corporate relocation manager.
Urgent Moves
There are lots of reasons for planning an urgent move – other movers canceled on you, your living situation suddenly changed, you need to move ASAP for a new job, or there's a family emergency, and you need to relocate quickly. We're here to help you navigate this stressful time. We offer last-minute moving services to make the transition smooth and we do our best to provide same-day depending on availability.
Personalized Moves
From students moving to or from campus, through families of all sizes, to senior citizens with special needs - we have the perfect solutions to meet your specific needs. We also offer tailored services for soldiers and veterans and created special moving procedures for ambassadors, diplomats and other government officials.
Small Moves
"Small" moves are trending, and it takes a different set of moving tools to make them run smoothly. Whether you're looking for apartment movers — or moving a townhouse, condo, or 1-2 bedroom home — this program is designed to get your belongings moved safely and on your moving schedule.
White Glove
Our top-quality White Glove Delivery service will go the extra mile to plan, move, and setup your belongings with the utmost care.
Full Service
Not looking to do any work for your next move? You're in luck. Our professional full service movers can handle all the tasks associated with your move so that you can sit back, relax, and watch your to-do list dwindle down without having to lift a finger.
It was an incredible experience - the movers (Leonardo and Lilian) were on time, very professional and cooperative. They made it all so easy for us. We would rate the move as 5 star. The customer service was diligent and followed up on the move multiple times to make the move goes smoothly, which it definitely did.
Best moving service I've worked with in NYC in 10 years. Courteous, communicative, efficient, covid-safe, very friendly and fun. My moving team truly made a stressful day a fun one. Additionally, the company's overall communication from inquiring about the estimate, to booking, to confirmation, to on-site, and closing out the job - they certainly live up to their name - it was perfect.
Nikola and his team completely rocked my moving requirements. They arrived early. Worked very fast and very efficiently. They sorted all my boxes by category at the storage location and sent me photos and videos which was very helpful and time saving. I would recommend them to anyone looking for a fast and efficient moving solution.
Perfect Moving is great. Nick is the best he is very helpful. Professional kind attentive. I recommend the place very much. I'll contact them again! They are awesome
I have unfortunately moved (8 times in 8 years) and I have to say that this is hands down the best moving company I have used. Rush and the team showed up on time and had my stuff pack and moved out in a few hours...they actually had us moved in a few hours ahead of our projected schedule which gave us time to go grab dinner. I'm bummed that I found them while leaving NYC but will definitely be recommending them to friends who are local.
Perfect moving was literally just that! The team was on time, super clear, considerate, and super quick! 10/10 for sure and would definitely use you guys again for future moves! Rush was AMAZING! And communicated everything so clear and concise. He really took all the stress and anxiety of moving away. Thanks for all your help!
I honestly could not have asked for a better moving experience. Rush and his team where fast, efficient, careful, and friendly. I was in awe at how fast they were able to get everything out while still wrapping and packing everything so carefully and thoughtfully. We were completely done in a couple of hours and everything arrived without a scratch. It's the first time I use Perfect Moving but certainly won't be the last and I would definitely ask for Rush again. 10/10
Everything was just perfect. Tasko was so responsive and accommodating and the movers were just great. They confirmed everything the day before and on the day of our move. Movers arrived on time. They were so helpful and also very quick. It was a studio apartment and only took 2 hours to move everything. I looked into 5-6 companies and I am so happy that we went with Perfect Moving in the end. Would definitely recommend them!
Perfect Moving. The best moving service I have ever used. Truck 7 team made this move an absolute breeze. Punctual on the dot, very helpful even with some stuff we did not pack right (or at all). Very polite and friendly. I am beyond happy with the service and Perfect Moving is quite accurate for the service.
Peace of Mind from the Get-Go